About Sandra Zimmer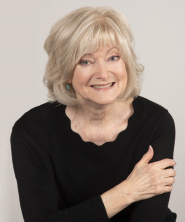 Sandra Zimmer is your coach for authentic public speaking, voice & diction, leadership presence, accent reduction and business communication. Sandra has a gift for seeing who people are and for guiding them to realize more of their potential through authentic communication.
Sandra believes that each of us has natural gifts and talents and a unique way of expressing that can be both effective and compelling to others. In 1992, Sandra was inspired to found the Self-Expression Center from her desire to help people develop confidence to express themselves more freely. With the help of three long-time acting students, Jay Wark, Pam Lowery and Tricia Gow, she took a deep breath and leased a commercial space not sure that she could pay the rent for very long.
As an acting student herself, Sandra had experienced how difficult it was to show her acting talent in classes where negative criticism ruled. As a public speaking professional, she had felt the awful fear of stage fright and performance anxiety. She was inspired to provide transformational programs in a totally supportive atmosphere where people could overcome fear of public speaking and feel safe enough to open up and explore their natural abilities to present, perform, lead and communicate.
Sandra holds an M.A. in Theater from The University of Houston, a Doctorate in Esoteric Philosophy, a B.A. in Psychology from the University of Texas and is a Certified Lessac Voice Teacher. Additionally, she has more than 35 years of experience in personal growth, self-awareness and spiritual psychology. She also received acting and directing training from theater giants Jose Quintero, Gerald Freedman, Robert Lewis, and Michael Shurtleff.
Sandra has been guiding groups and individuals since 1976 at the Self-Expression Center and in small businesses and large corporations. Initially she taught acting, voice and diction, but in 1989 she developed her Sandra Zimmer Method for transforming stage fright and she began teaching public speaking. By 1992, she focused more and more on coaching business professionals. Her programs expanded to include leadership presence, executive presence and gravitas, interview preparation, accent reduction and business communication skill training.
She has designed group-training programs for Walter P. Moore Engineering, FKP Architects, Reveal Energy Services, TELLEPSEN Builders, Softway, Welcom, KBR, Brown & Root Services, Shell SITI, BP, Transwestern, TransCanada, Lockheed, Minute Maid, Star Enterprise, Neill Corporation, Pointsmith Point of Purchase Management and Dub Miller Ford.
She has coached individuals from hundreds of companies, including HP, BP, Siemens-Nixdorf, Exxon-Mobil, Amoco, Baker Hughes, IBM, Coca-Cola Foods, Shell Oil, Shell Chemical, Marathon Oil, Conoco-Phillips, Mary Kay Corporation, Schlumberger, Deloitte, Accenture, National Oilwell Varco, SYSCO, KHOU-TV, KUHT-TV and several law firms.
She has taught courses at The University of Houston Department of Theater, Houston Community College Speech Department, The State Bar of Texas Continuing Legal Education and The University of Houston Law Center.